29 May 2018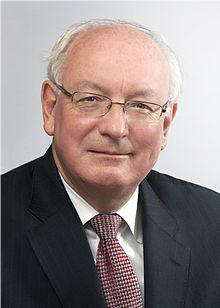 Louisiana Summit on Modern Slavery and Human Trafficking
7 – 9 May, 2018
Baton Rouge, LA
"Slavery proofing the supply chains of the Catholic Church"
Speech by John McCarthy QC
Chair of the Sydney Archdiocesan Anti-Slavery Taskforce and Australian Ambassador to the Holy See (2012-16)
The election of Pope Francis to the Chair of St Peter in March 2013 has proved to be momentous for the anti-slavery movement in the contemporary world. From Rome during the past five years the Church and the world have heard a constant flow of statements and exhortations by the Holy Father in respect of the eradication of modern slavery and human trafficking. He is perhaps the greatest anti-slavery advocate in our world today. This is a cause dear to his heart and always high in his priorities. He has declared human trafficking to be "an open wound on … contemporary society, a scourge upon the body of Christ" and "a crime against humanity." He has pledged with other global religious leaders to collectively work to bring each faith community together to rid the world of this affront to human dignity and defilement of human freedom. He was more than an inspiration in the adoption of Target 8.7 of the Sustainable Development Goals which seeks "[t]ake immediate and effective measures to eradicate forced labour, end modern slavery and human trafficking and secure the prohibition and elimination of the worst forms of child labour, including recruitment and use of child soldiers [by 2030], and by 2025 end child labour in all its forms."
Pope Francis is firm and consistent in his belief that we will be victorious over modern slavery and human trafficking. He exhorts the contemporary world and the contemporary Church to provide the collective will and organization to defeat modern slavery in all its manifestations in this generation. Without a doubt, this is one of the most inspiring visions of freedom in our world. Pope Francis' words sound out like a trumpet that shall never call retreat.
And from across the seas and continents comes a thunderous salute to Francis comes from the peripheries; from far away Australia. The Archdiocese of Sydney and its Archbishop Anthony Fisher OP, signals that Pope Francis has been heard loud and clear by offering a framework for a comprehensive anti-slavery strategy .The Sydney framework encompasses
· an anti-slavery supply chain strategy,
· anti-slavery education and external engagement, and
· anti-slavery welfare services.
This far-reaching framework, which is now being implemented, seeks to bring about change in the areas where the Church has the most capacity to influence change; in our supply chains. As Pope Francis has declared that businesses "must also be vigilant that forms of subjugation or human trafficking do not find their way into the distribution chain. Together with the social responsibility of businesses, there is also the social responsibility of consumers. "The vigilance and social responsibility of business and consumers by Pope Francis applies in all respects to Catholic dioceses and Catholic institutions.
When we consider the estimated 40 million people who are enslaved in our world today we note that the majority of these men, women and children are held in forced labour conditions. Modern slavery touches every country and every industry sector. However, notable examples of high risk sectors include construction, manufacturing and agriculture. Moreover, when we appreciate that 80% of trade flows through global supply chains and consider the sheer extent of the supply chains of Catholic institutions (such as schools, hospitals and universities) we can see that our possible exposure to modern slavery is enormous. So, too, is our capacity to effect change.
When taken together, the Catholic Church in Australia is both the largest employer and the largest procurer of goods and services in the country outside the public sector. By way of example, 1 in 5 Australian children are educated in Catholic schools and 1 in 10 hospital patients and aged care residents receive care in Catholic health facilities. Indeed, the major exposure to modern slavery by the Church in Australia relates to our procurement decisions – to the buying of goods and services and to investment decisions. This includes not only Church institutions which have a procurement function but parishes, communities, families and individuals who also make daily purchasing decisions.
In March 2017, Archbishop Fisher publicly committed the Catholic Archdiocese of Sydney to a programme directed towards the eradication of modern slavery in the supply chains and life of the Archdiocese. In this statement to a New South Wales State Parliamentary Committee, Archbishop Fisher demonstrated he well understood that the Holy Father wanted action. In proposing action in his own Archdiocese, the Archbishop said that, "it is not enough for groups such as churches to lecture or exhort the rest of the community in such matters [as modern slavery and human trafficking]. We must demonstrate our own willingness to act where we can. The Vatican has already committed itself to slavery-proofing all its procurement practices and supply lines. It is no small task to ensure everything we use has been obtained ethically, that everything we obtain has itself been produced and supplied ethically and sustainably, and that those upon whom we rely or with whom we are affiliated are like-minded. It is no small task but we must try. As Pope Francis has pointed out, buying goods is not just a commercial matter; it has moral dimensions."
Archbishop Fisher subsequently appointed an Anti-Slavery Taskforce and issued a strong Mandate to them. He honoured me by naming me as the Taskforce Chair and with Katherine Moloney, a supply chains expert, we constitute the Taskforce Executive working to fulfil Archbishop Fisher's Mandate.
Our anti-slavery supply chain strategy is multifaceted and is set out in the Taskforce report to Archbishop Fisher. Firstly, it involves the implementation of an effective anti-slavery supply chain strategy for Catholic institutions with procurement functions. Our strategy uses the so-called Australian Model of supply chain regulation which is an international best practice model incorporating human rights due diligence throughout supply chains.
This Model is based on the premise that in order to combat modern slavery and other forms of exploitation, it is imperative to know the locations and conditions of work for all who labour throughout the supply chain at both national and global levels. This transparency is achieved by harnessing contractual arrangements, which already regulate global supply chains. Both national and global supply chains are comprised of a successive 'chain' of contractual arrangements for the production of goods or the provision of services. Businesses at the top of supply chains already use contracts to leverage their relative power to effect outcomes throughout the chain. This same mechanism may be harnessed to combat modern slavery and slavery-like practices.
The Australian Model builds into contracting arrangements human rights due diligence provisions for the protection of all workers throughout the supply chain. These provisions are binding on all suppliers throughout the chain. Moreover, a major strength of the Model is the implementation of a robust system of compliance due diligence. The Model differs from and is superior to other models of supply chain regulation which rely primarily on Codes of Conduct, supplier self-report and auditing.
Secondly, the Taskforce Executive is developing an ethical purchasing guide for use by priests and parishes, communities, families and individuals. This resource will be used to educate the faithful about the link between what they buy and modern slavery, and so equip them to make ethical purchasing decisions.
And thirdly, on behalf of the Archdiocese, we are actively engaged in advocating for effective anti-slavery supply chain strategies in the public and private sectors. We are working particularly closely with government legislators with the view to ensuring that legislation and public procurement policy requires human rights due diligence throughout supply chains.
Our proposal for the global Church is based on the sure fact that Catholic institutions and communities the world over interface with modern slavery each and every day through their supply chains. We therefore propose that Catholic organizations with procurement functions (such as Catholic educational facilities, health systems and financial institutions) adopt effective anti-slavery supply chain strategies which implement human rights due diligence throughout all tiers of their supply chains.
We also propose that priests, parishes and the wider Catholic community are equipped and empowered about how they can contribute to ending modern slavery through ethical purchasing. And we propose that, in its engagement with governments, the Church worldwide adopt a policy position that prioritizes anti-slavery supply chain legislation and ethical public procurement.
While all of us in the Antislavery movement recognise and acclaim the leading and direction setting role of Pope Francis in worldwide Catholic anti-slavery action, we must look towards the future. We also acknowledge with gratitude the difficult but vital work being carried out by Catholic groups, particularly Religious sisters and other anti-slavery organizations to support and protect victims and to expand justice and freedom in our world.
Like Pope Francis, we truly believe that it is possible to eradicate modern slavery in this generation. Like Pope Francis, we also believe that the Church throughout the world must demonstrate the will and the determination to effect liberating change in the lives of the many millions enslaved for the goods and services our world consumes. We can plan hope and that soon there is convened an international conference on Catholic supply chains held in Rome which would educate and empower the global Church to carry out this work. So, we challenge the Church worldwide to embrace an effective anti-slavery supply chain strategy at institutional, diocesan and national levels and to engage with the Archdiocese of Sydney about how to implement such strategies. For Church leaders, Archbishop Fisher sets a known standard. Going forward the famous words of William Wilberforce take on new relevance for Catholic leadership everywhere "You may choose to look the other way but you can never say again that you did not know."
8 December 2017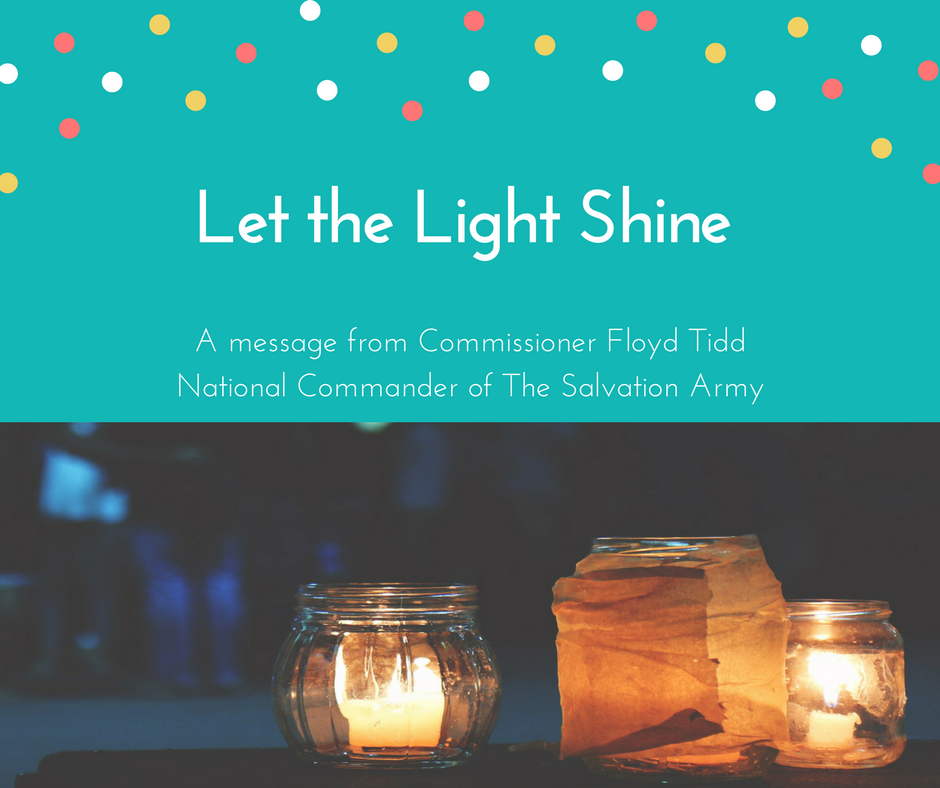 "The people who walk in darkness will see a great light. For those who live in a land of deep darkness, a light will shine." Isaiah 9:2
There is nothing like an Australian Christmas season to make a Canadian feel like a fish out of water. Seafood on the barbeque. Short sleeves and shorts are the predominant attire. Pavlova instead of plum pudding. Sunlight until 9pm. A five-day cricket match that starts on Boxing Day. Our first Christmas here in Australia we served lunch at a couple of Salvo locations and after went straight to the beach for a picnic! Initially this change of scenery and climate confused us, but quickly transformed into yet another pleasure of doing life in the sunburnt country.
In contrast to our lives here, Christmas in Canada is a far different proposition. Caroling in the snow. Driving in the snow. Walking in the snow. It's beautiful, but a different experience. In the northern hemisphere at Christmas time, fires are used to keep us warm and candlelight pierces the darkness that descends in the early evening. This light keeps us warm and illuminates our path when we need it. But for some, they are constantly walking in darkness no matter the season.
The good news is that people need not walk in darkness anymore. The redeeming and precious love of Jesus has come into the world offering hope, joy and love – a strong and illuminating light. When people are encouraged to stop and contemplate the true meaning of this season, there is an overwhelming transformation that takes place. It is our honour as Salvos to live, love and fight alongside others to bring this light into their lives. May Christmas 2017 be a refreshing reminder for you to share the good news of great joy and bring light in the midst of the darkness.
Last week the Salvos marked the International Day for the Abolition of Slavery. The Global Slavery Index estimates that 45.8 million men, women and children are enslaved around the world, including in Australia where there are 4,300 people living in modern slavery. These figures are very troubling, and serve as another reminder for Salvos to live, love and fight to end modern slavery in Australia and be an example for the wider world. We have been advocates for victims and survivors of exploitation and slavery right from our inception as a movement and we will continue to advocate and bring light into the darkest of places. I'm proud of the work of our Freedom Partnership, which brings much needed focus to this critical issue in parliaments, businesses and communities right around the country.
Today, let us all accept the offer to walk in the light, for a new light has dawned. For people in places of hardship and injustice who feel like they are walking in darkness, walk with them so they can experience walking in this light. There is no greater experience to share than that of the love of Jesus.
September 19,  2017
By Sydney Hirt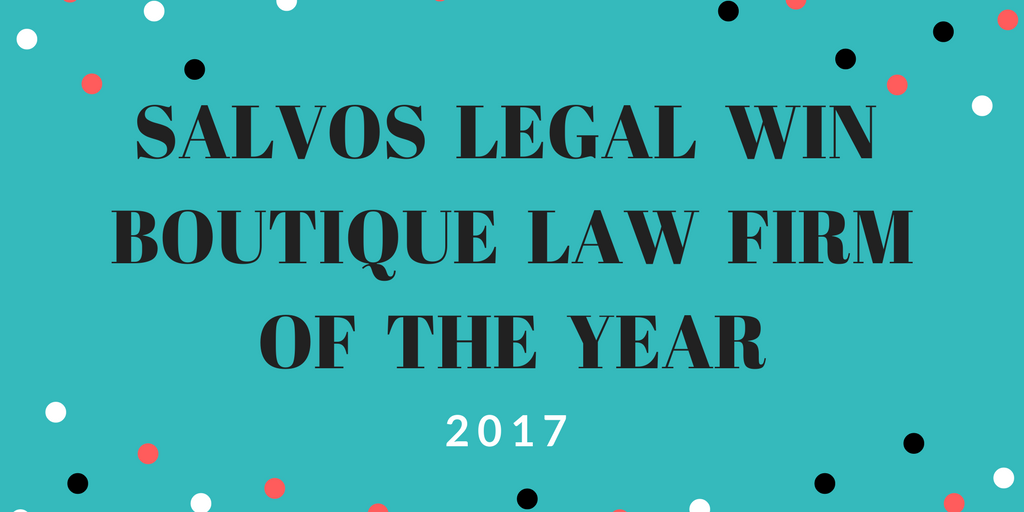 Massive congratulations to Salvos Legal who recently won Boutique Law Firm of the Year at the Lawyers Weekly Australian Law Awards! 
Profits from Salvos Legal fund their sister firm Salvos Legal Humanitarian (SLH), who have been providing free legal advice and representation to victims of modern slavery since 2008.
These clients are usually referred to SLH by our team at the Freedom Partnership – often very shortly after they have escaped from human trafficking or slavery-like conditions.
Due to language barriers, vulnerability and a lack of awareness of their rights, victims of modern slavery typically face significant barriers seeking access to the law and justice from traditional legal services.
SLH ensures that clients clearly understand their legal rights and receive the best possible outcomes with respect to their migration, criminal (victim support), employment and other related legal matters. SLH and The Freedom Partnership are committed to ensuring that the holistic needs of clients are met through collaborative practice.
In addition, SLH has developed and supported research to assist our policy advocacy at The Freedom Partnership in relation to domestic workers, government human trafficking and related inquiries, and a Modern Slavery Act for Australia.
Some examples of people Salvos Legal Humanitarian have represented include:
A woman who was enslaved in a private home for 3 years as a domestic worker without pay. She obtained permanent residency, a private settlement and victims compensation.
A young man enslaved in construction by his father overseas and then trafficked to Australia for forced labour. He obtained permanent residency.
A woman subjected to sexual servitude whose witness testimony led to the 8 year conviction of a perpetrator. She obtained permanent residency and achieved a significant amount of victim's compensation.
A domestic worker who had escaped from slavery-like conditions in the private residence of a foreign diplomat based in Canberra. Salvos Legal Humanitarian worked closely with Australia's Department of Foreign Affairs and Trade to obtain a settlement sum from the foreign diplomat.
Well done to Salvos Legal on this prestigious Australian Law award! A greatly deserved accolade for a fantastic organisation.
---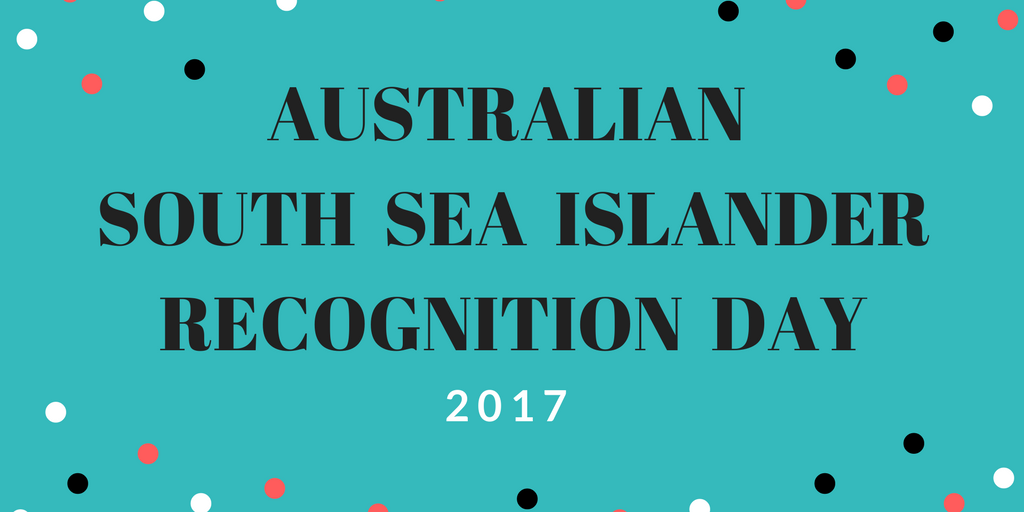 August 25, 2017
By Sydney Hirt
We are very proud to have supported modern slavery survivor Moe Turaga, who shared his story of slavery in Australia at the Bali Process Business and Government Forum to combat human trafficking and exploitation.
Below is his full statement to the Forum:
"I would like to acknowledge that this meeting is being held on Aboriginal land and recognise the strength, resilience and capacity of Noongar people and their past experiences of slavery in their own country. Today, 25 August, is also Australian South Sea Islander Recognition Day and I would like to acknowledge the past injustices to the more than 60,000 people from Pacific nations who came to Australia as indentured labourers and the significant contribution they have made to Australia's economic, cultural and social development.
Thank you ladies and gentlemen for the opportunity to take part in this important meeting that I hope will be the beginning of a new dialogue between nations on the issue of modern slavery.
I come from a settlement in Fiji which is still a developing country.  Unfortunately, my dad died when I was 13 years old and our family was left without an income.
I loved school education and had good marks.  But, by the time I was 15, I had to drop out and look for work to earn money to help my mother.
When I turned 17, I was approached by a cousin to go to Australia where he said I could study and earn money he would send back to my mother.  I was excited about the possibility of going back to school. Now, this cousin was a church minister and respected man in our society and family. So, I agreed to go to Australia.
All of my travel was arranged by him and he brought me with him to Australia in April 1988.
When I arrived he took my passport and gave it to a migration agent who he said would assist in our permits and legal issues. He also told me there was a debt that I had to pay off for travel and visa costs.
He took me to a grape farm in Victoria where I worked on two properties owned by the same family.  I lived in a pickers hut there.  I didn't know how much money my cousin was getting for my labour.  There was never any contract or accounting for my work.
I jumped on the truck at 6 am and pruned and picked grapes until 6 pm or dusk 7 days per week.  These grapes went to supermarkets and farmers markets in Melbourne and Sydney. When there were no grapes to pick or prune, I picked watermelons and lettuce at their other farms, some of which went to fast food restaurants.
After about 2 years, I was finally able to contact my mother and found out that my cousin had never sent money to her. I couldn't believe this and I was emotionally devastated.
I felt cheated and deceived by this man who I and our community trusted.  But, I also felt trapped because of his position of power in our society and that I would be shamed by my community if I complained or came home empty-handed. I  would be seen as the wrong-doer or the rebellious person who didn't make good of the opportunity that was provided to me. He would be believed while I would be considered ungrateful. He could poison the community against me.
The power and fear of this shame kept me in a prison without walls afraid to ask for help.
Also, my passport was still with the migration agent in Sydney. So, I kept on working in the hope that I could find a way out.
During some parts of the year I was able to walk into town and go to church on Sunday.  I met a farmer there, Audrey, who became very concerned about me and she offered to employ me on her farm. I escaped from the grape farm and my cousin and worked for her from then on.
It was exhilarating to get paid a real wage into my own hand and to finally have money to get new clothes. I was proud to send the money I made to my mother and hear the pride in her voice on the phone. Audrey helped me to get my passport back from the migration agent.
I was finally free to make my own choices and live my own life.
Eventually, I began to socialise in the community, married and have stayed permanently in Australia with 4 beautiful children.
I don't know how many people my cousin trafficked to Australia – there were many others. I estimate that he made up to $200,000 from exploiting me for those years.
I am marked by slavery forever. The scars on my back from when I fell into barbed wire and received no medical care are a regular reminder of this traumatic time in my life.
As a member of a rural community today I see many vulnerable workers coming to Australia from all over the world seeking a better opportunity.
Farming is still hard work and there are still people like my cousin exploiting others for their own profit.
People in this situation don't know that there are people like yourselves, working hard to close down opportunities for this sort of exploitation. Your leadership and your dedication to work together to end modern slavery, can make a difference to the lives of millions of people in my situation, and in situations much worse.
I thank you for the opportunity to share my story, and I urge you, as strongly as I can to continue to take action against modern slavery.
As Catherine Booth co-founder of The Salvation Army said, "There is no improving the future without disturbing the present."
– Moe Turaga
---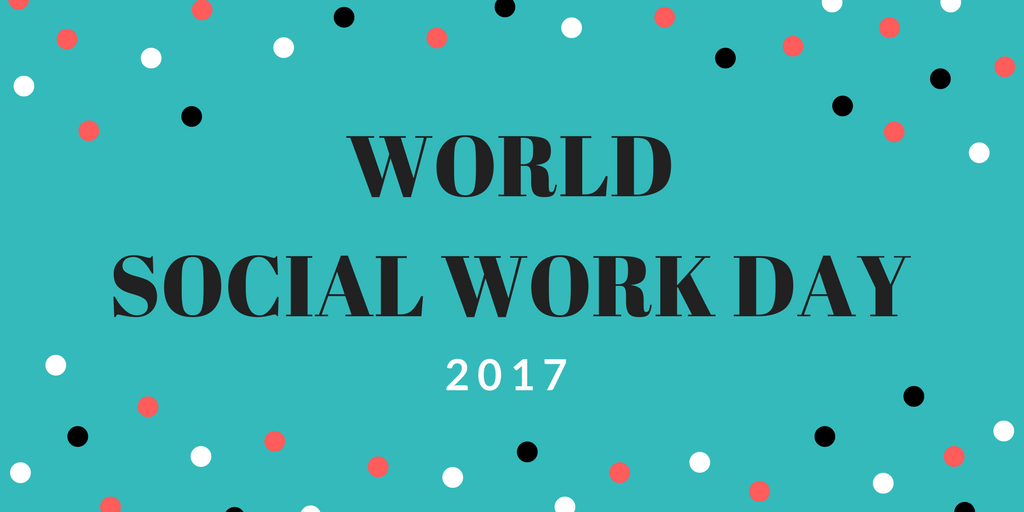 March 21, 2017
By Sydney Hirt
Social Media Communications Officer
Today is World Social Work Day, a day to recognise and celebrate the unique and significant contributions of the social work profession.
At The Freedom Partnership we are truly privileged to have an amazing and diverse group of social workers that make up our team.
One such staff member is Heather Moore, who works in Canberra as our National Policy and Advocacy Coordinator. Through her role, Heather is responsible for developing and implementing the Freedom Partnership's national advocacy strategy, as well as our state government engagement and domestic workers campaign. Many people are often surprised to learn that Heather does all of this through her profession as a social worker. There exists a common misconception that being a social worker only involves one-on-one type casework for individuals in need.
With this in mind, World Social Work Day seemed like the perfect opportunity to interview Heather and spotlight her important work.
Heather, could you tell us why are you passionate about social work?
I think social work is a unique profession because it requires the professional to reflect on their own beliefs and biases; to acknowledge their own power and privilege so they are more self aware and more empathic to the experiences and perspectives of others. I am drawn to the profession because it requires us to go "upstream" and fight for change at the structural and systemic levels.
And why are you passionate about working in the anti-slavery space?
I am humbled by the resilience and courage of survivors who teach me new things about life and living and not taking anything for granted.
I feel like this profession found me and that in some way, it's what I'm supposed to be doing in the world. I am also surrounded by inspiring and passionate colleagues who support me and help me grow.
How does your role at The Freedom Partnership relate to being a social worker?
A lot of people think social work only involves client work, but this simply isn't true. The foundations of the profession were built on people working together in the community to address the root causes of social problems. My role is concentrated on macro-social work practice, in which I apply the knowledge I gained from working directly with clients for many years to advocate for better policies. I also work alongside survivors to facilitate opportunities for them to speak out for themselves in a supported and self-determined way.
What has been a highlight of your time working for the Freedom Partnership?
Dr Martin Luther King Jr. said: "Change does not roll in on the wheels of inevitability, but only comes through continuous struggle."
Advocacy is long-term work and big victories don't come too often, so you have to recognise the little wins along the way.
In my time at The Freedom Partnership, I think of one our greatest achievements has been securing more opportunities for survivors to speak to government directly. We successfully advocated to have survivors attend the National Roundtable on Human Trafficking as observers, and we have accompanied survivors to meet with federal politicians and to brief senior departmental officials, including the Ambassador for People Smuggling and Trafficking. In the long run, the aim is for them to have a seat at the table.
Another highlight for me is getting the issue of modern slavery onto the radar of state and territory governments. There are four state/territory governments now that have either adopted policies on modern slavery or are looking to do so. The long term aim of The Freedom Partnership is to build a national movement, decentralise the anti-slavery response, and engage a much more diverse range of stakeholders at the grassroots level to take action. We are doing a lot of other things, but this in particular is really exciting work. It's really a privilege to come to work everyday.
Heather Moore holds a Masters of Social Work and International Social Welfare from Columbia University in New York. Her expertise is built on 15 years of antislavery work, which started when she established the first shelter for trafficked women in the United States. Since then, Heather has worked as a service provider, trainer, community organiser, consultant and advocate, fighting for the rights of individuals impacted by modern slavery.
---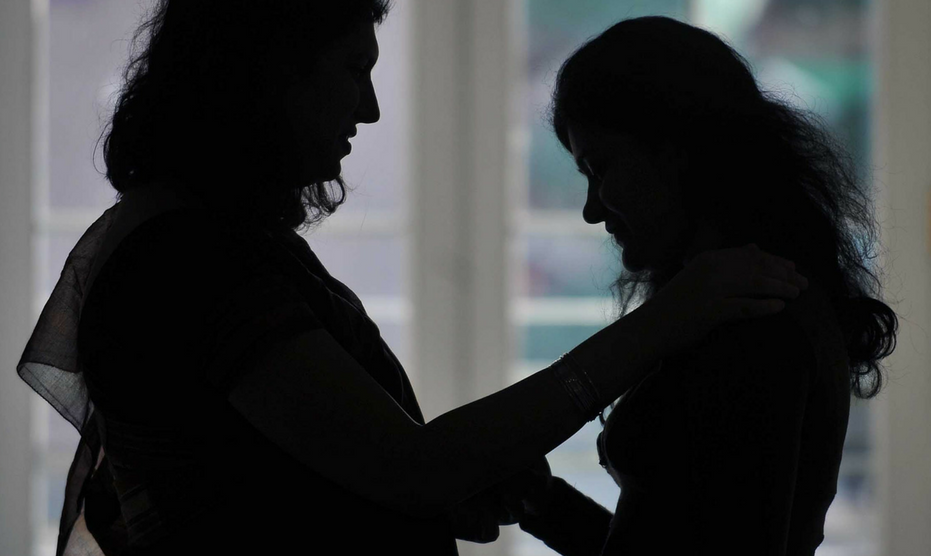 It's Time to Be Bold For Change and End Forced Marriage in Australia
March 8, 2017
By Laura Vidal
National Projects Coordinator
In the month leading up to writing this piece, The Freedom Partnership – to End Modern Slavery has responded to 4 reports of forced marriage in Australia. Each of these reports involved young women under the age of 20 facing the choice of spending life separated from family or being married against their will.

The most recent example involved a young woman promised to a man 10 years her senior and through physical and psychological abuse. Fearful and emotionally exhausted she took a chance and boldly reached out for help. She hoped there was something else for her; that this marriage was not something she had to do.

Primarily, individuals we have supported in Australia are young women under the age of 18 with relatives or people close to them alleged to have organised or be organising a marriage, without their free and full consent.

In Australia, forced marriage and attempts to force someone to marry were criminalised in 2013. Since then, the Australian Federal Police (AFP) have received 113 reports nationwide.

In 2016, The Freedom Partnership – to End Modern Slavery supported 15 individuals facing forced marriage.

The criminalisation of forced marriage has led to a concentrated effort by the Australian government and community to raise awareness. The shame and fear associated with reporting forced marriage contributes to a lack of comprehensive data about its true extent in Australia.. Many choose not to report to the police out fear of the consequences for their family members and community.

Australia has taken steps to recognise and respond to the practice, however, a great deal of work remains to ensure a coordinated and comprehensive response. Many people in the community do not know how they can help people like the young women I meet. School counsellors have some awareness of The Salvation Army's support and that the AFP can also play a role in helping. The support framework is developing, but there are significant gaps in the availability of appropriate services in Australia.

On International Women's Day last year, I wrote on the same issue[1], recommending that broadening Australia's approach to forced marriage is the next step to empowering women and girls. Whilst reports are increasing, there has been no substantive change to Australia's response to those reports in the last 12 months. From our experience working with young women at risk, the current framework falls short of ensuring safety and protection. It puts a significant amount of pressure on young people to make decisions too complex for their psychological and emotional development. This can result in a multitude of risky behaviours and elevate the risk of gender-based violence.

Specialist help should be made available to people from the moment of disclosure no matter where that occurs – at school, a hospital, via a helpline, a police encounter or to a trusted community member/friend. In addition to this, state and federal government agencies should develop cooperative frameworks that ensure no person falls through the cracks.

The theme for International Women's Day in 2017 is 'Be bold for change!' It requires all of us, men and women, to engage in purposeful collaboration.

It is ever more pressing for us to take action when disparity between men and women persists. We cannot stand by and accept that women face situations of forced marriage as a result of their diminished status in society.

The young women I have met, show tremendous courage in reaching out for help. Women and girls like her deserve no less than our equal courage, to be bold in our actions, to agitate for change and lead the way for women and girls to experience the full realisation of their rights.

To learn more about The Freedom Partnership's work on Forced Marriage in Australia click HERE.

*Laura Vidal is the National Projects Coordinator for The Salvation Army, The Freedom Partnership-to End Modern Slavery. In this role, Laura coordinates The Freedom Partnership's response to early and forced marriage in Australia. As a recent Churchill Fellow, Laura will travel overseas this year to research best practice responses to early and forced marriage; returning to Australia to continue supporting those at risk and advocating for an enhanced response framework

[1] http://www.huffingtonpost.com.au/lauravidalau/forced-marriage-is-happening-in-australia-and-we-need-to-do-some/
---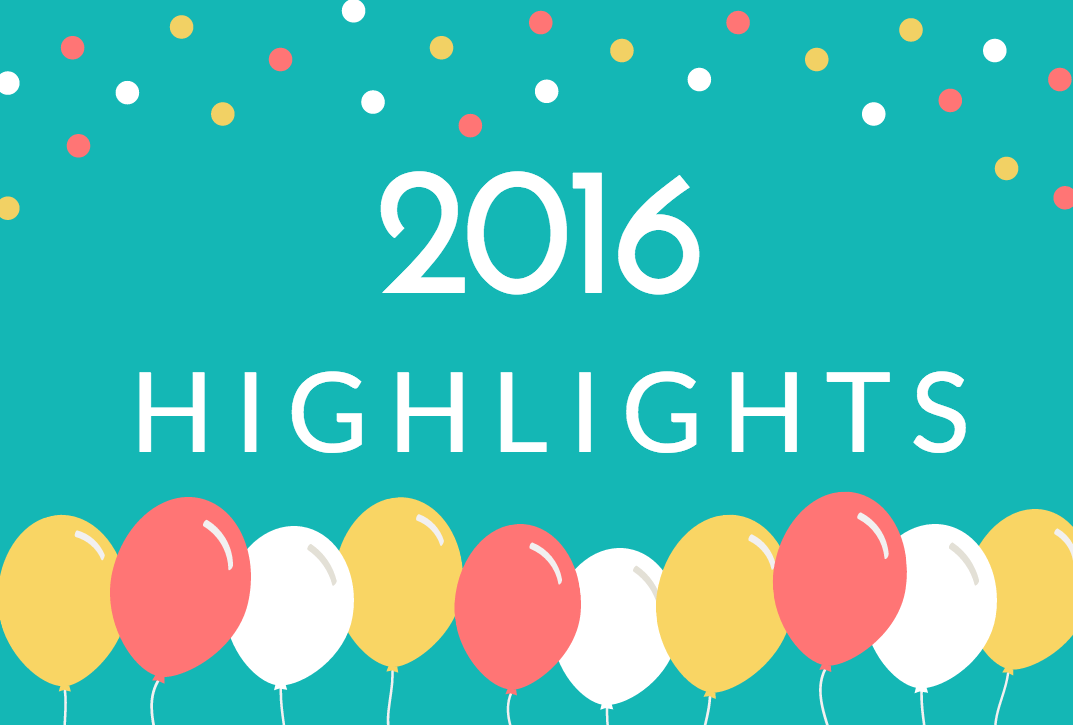 Our Year in Review
January 31, 2016
By Sydney Hirt
Social Media Communications Officer
Happy New Year from everyone at The Freedom Partnership, and a massive THANK YOU for your continued support!
To celebrate our achievements over the past year we have put together some of our favourite highlights from 2016 – check them out below!
Together let's continue to build a chain of good to end slavery in Australia.
In 2016: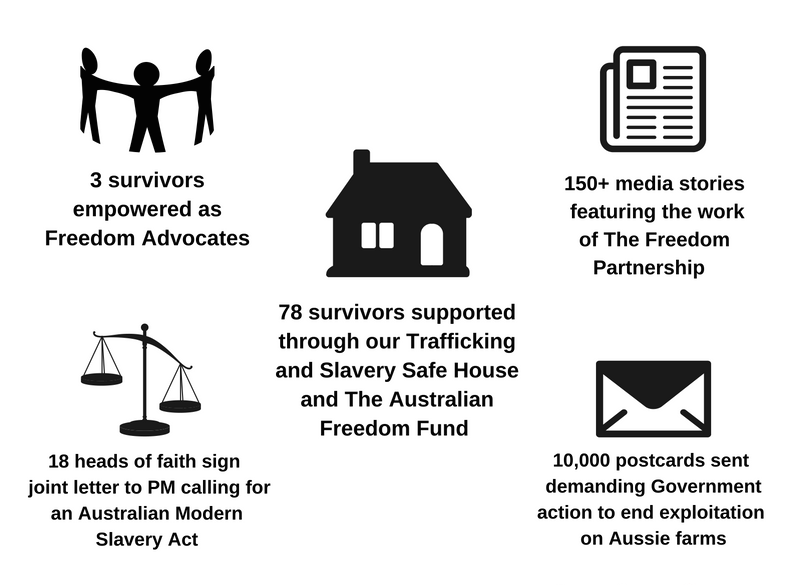 In 2016 we supported 78 individuals from 25 countries to rebuild their lives through the Trafficking & Slavery Safe House and the Australian Freedom Fund. The Safe House remains Australia's only refuge for people who have experienced slavery in Australia while the Australian Freedom Fund makes dynamic grants to support individuals when no other support is available. Make a tax-deductible donation HERE.
10,000 of you signed our postcard campaign to end exploitation in industries such as agriculture, cleaning and construction by introducing a labour hire licensing scheme. The South Australian and Victorian State Governments announced plans to implement such a scheme. We need to keep up the pressure for a national system. If you haven't signed, take action HERE.
Through our unique Freedom Advocates program, three survivors of slavery were empowered to share their experiences and insights with senior policy makers, media, researchers and peers in need of support and mentoring. We continue to champion the ethical engagement and professional development of survivors.
We helped lead 18 heads of faith to call on the Prime Minister to introduce a Modern Slavery Act. It's time for new legislation to address slavery in supply chains through enhanced corporate transparency and establish an independent anti-slavery commissioner. Read more HERE.
150 media stories featuring our work reached an audience numbering in the millions. We broke stereotypes and demonstrated critical links between exploitative work and slavery. These stories helped us to influence decision makers and contribute to a national movement to protect the rights of vulnerable migrants – a root cause of modern slavery. Of particular mention include: our op-eds on forced marriage in the Herald Sun and The Huffington Post, feature stories on our work with survivor advocates in the Sydney Morning Herald and news.com.au, and our calls for an Australian Modern Slavery Act in the Sydney Morning Herald and ABC News.
---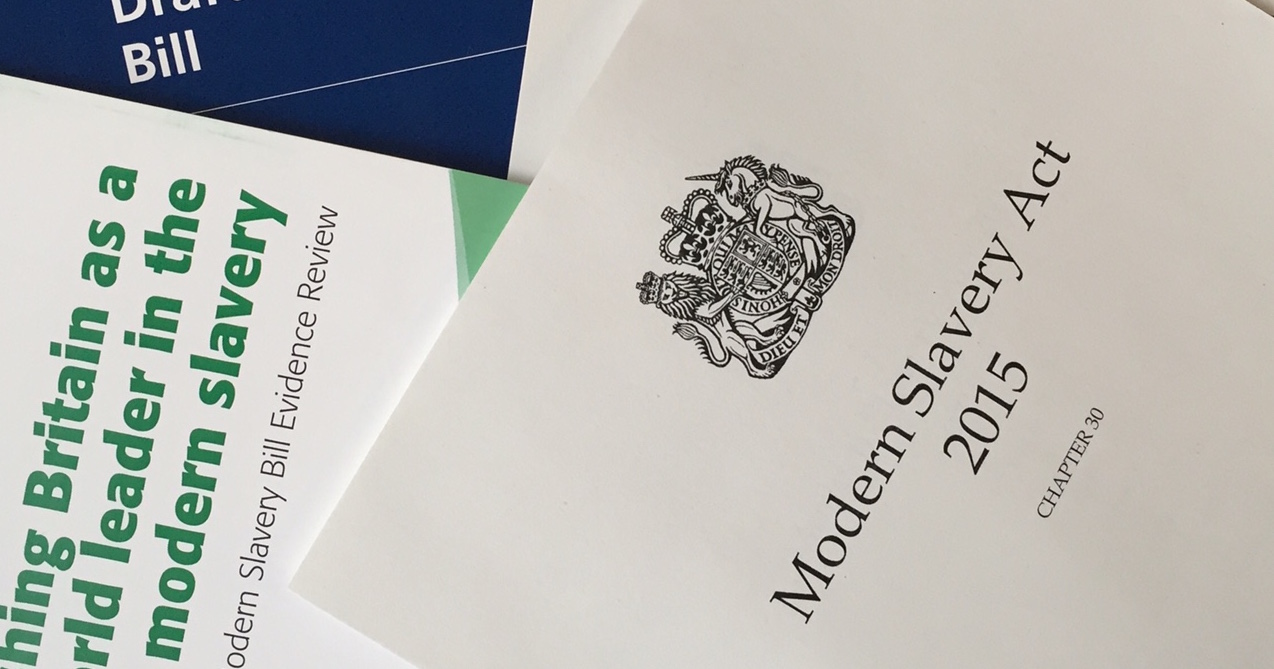 Time For An Act To End Slavery
9 December, 2016
By Sydney Hirt
Social Media Communications Officer
Last week on the International Day for the Abolition of Slavery, The Freedom Partnership joined faith and business leaders in calling on the Federal Government to introduce a Modern Slavery Act to increase transparency and accountability in Australian supply chains.
Kevin Hyland, the Anti-Slavery Commissioner for the United Kingdom recently expressed his support of this joint action undertaken by the Australian Freedom Network.
"Faith communities are in a unique position to bring change where it is needed most, with first hand access to vulnerable people who trust in and look to their leadership," Mr Hyland said.
"By collaborating and working together, joining the dots and coordinating accountability, the Australian Freedom Network has taken significant steps forward to combat the crimes of modern slavery and human trafficking. Now is the time to act, before this trade in human lives thrives any further."
The creation of an Independent Anti-Slavery Commissioner is one of the main provisions of the UK's Modern Slavery Act, and Mr Hyland's role is vital in ensuring modern slavery is tackled in a coordinated and effective manner, including strong international collaboration.
"From a UK perspective, the Modern Slavery Act has brought valuable leadership and vital direction to the fight against modern slavery and human trafficking, and as the Independent Anti-Slavery Commissioner I am committed to working with other nations to bring this evil to an end," explained Mr Hyland.
"By having oversight of this issue, working with those on the ground and those shaping policy, I can identify gaps and celebrate best practice."
"In the UK the Modern Slavery Act has been a game changer, bringing transformation to a trade that must not be tolerated. We need as many nations as possible on the same page, ensuring that citizens across the globe are allowed freedom, treated with dignity and properly paid for the work they do. Now is the time to act, before this trade in human lives thrives any further."
---
---

---
Walking to end slavery
23 November, 2016
By Jenny Stanger
National Manager, The Freedom Partnership
This February I am undertaking a Project Futures three-day walk along the Great Ocean Road in Victoria. All proceeds from the event will be donated directly to The Freedom Partnership's Trafficking & Slavery Safe House – Australia's only refuge for victims of modern slavery.
People often ask me, "How is it that you are still doing walks or runs to raise money for your work?" They ask me this because I have been doing these things for a while now – since 1997. And I'm continuously asking my network to support my lifelong cause of helping people who have experienced human trafficking, slavery and forced marriage. The truth is, I am walking the Great Ocean Road this summer because it is a demonstration of my commitment to be the change I want to see in the world, to lead by example to do what is right, not what is easy.
But funnily enough, it was my husband, Greg, who reminded me about this commitment. Since Project Futures announced the fundraising walk it has been in the back of my mind as something I should sign up for, as the money raised will have a significant benefit for our Safe House.
I was telling him about it a few months ago saying it would be a good thing to do except I am just too busy. I have staff to manage, international conferences to attend, meetings in other states, reports to write, budgets to monitor etc. Not to mention I have two young children that I couldn't possibly leave for a few days – oh and the house needs painting, and my sock drawer needs rearranging!
"Just do it," said Greg. "I'll do it with you. The kids can stay with my parents."

"We have to raise money, $2,500 each," I said, thinking he would change his mind.

"So what?" he said. "We can do that, and whatever we don't raise we can pay ourselves. It's a donation to the Safe House, right? Why are you even hesitating?"
This conversation with Greg made me really stop and reflect. Why do we hesitate to get involved in worthwhile causes? Why do we come up with reasons for not giving up a bit of our money, our time, our energy or ourselves to help those in need? I have found that pushing yourself to be involved in something that is bigger than us can often be transformative and meaningful in ways we did not expect.
And what is the meaning of our involvement for the people who benefit from our engagement? As National Director of The Freedom Partnership and line manager at the Trafficking and Slavery Safe House, I can tell you the meaning is profound. It's no exaggeration to say that the funds raised by Project Futures are enabling significant changes for survivors of slavery and exploitation who have had horrific experiences in their lives. These changes include becoming physically well, emotionally balanced, cognitively reconnected and socially linked. Our team help survivors to make meaning out of the horror so that they can move beyond those experiences and not be forever defined by them.
And the long-term outcome of this support? I recently received a phone call from a former client of the Safe House who is now married, has full time work and a young child.
"I'm happy, Jenny, " she said. "I was just calling to see if you are okay and to tell you if you ever need my help you can ask me."
Profound.
Can you join me in my walk to end slavery? We are looking for 20 people to take up the challenge alongside The Freedom Partnership and Project Futures. Head to: projectfutures.com/great-ocean-walk for full details and your free info pack. Registrations close December 6.
You can sponsor my walk at: chuffed.org/fundraiser/great-ocean-walkJS

---
---
Empowering young Koreans to end exploitation
By Alison Rahill
National Networks Coordinator
6 September, 2016
The Freedom Partnership recently hosted an orientation for newly arrived young workers from Korea.
The event was organised by KoWHY (Korean Working Holiday Youth) volunteers. KoWHY is one of several community based organisations that participates in our Migrant Workers Rights Network in Sydney.

The program included sessions about worker's rights, superannuation, workers compensation, minimum wage, casual rates of pay in Australia by Fair Work Ombudsman and trade unions.
The Q and A session exposed misinformation prevalent in the Korean community such as "wage deposits", unpaid training, superannuation being deducted from wages and employers 'negotiating' hourly rates less than the award. All of these work practices were deemed as unlawful by the Fair Work Ombudsman.
National Union of Workers presented information about the campaign to improve life working on farms. The AFP and NSW Police talked about staying safe. Other sessions covered travel, medical, transportation, accommodation.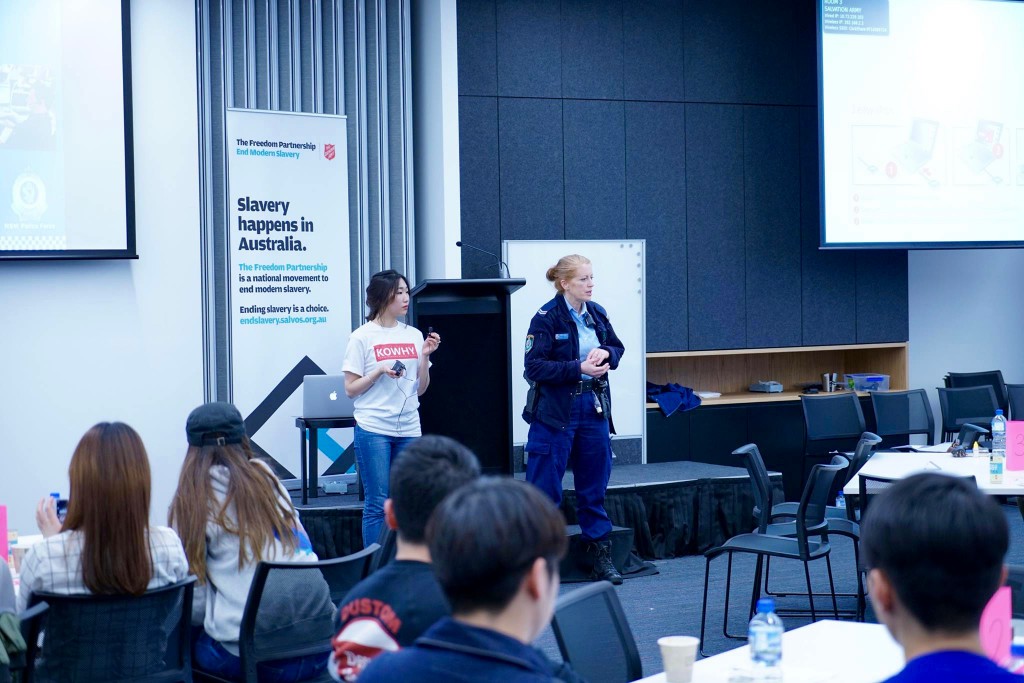 The Freedom Partnership encouraged the young workers to contact the Salvation Army if they ever needed help, felt isolated, afraid or were in trouble.
Inductions by organisations like KoWHY not only inform temporary migrant workers of their rights in Australia but are also one of the best way to avoid exploitation and bad situations by being connected to community based organisation.
The Consulate General of the Republic of Korea in Sydney sponsored the event and gave complete autonomy of the day to the young organisers who did a fantastic job.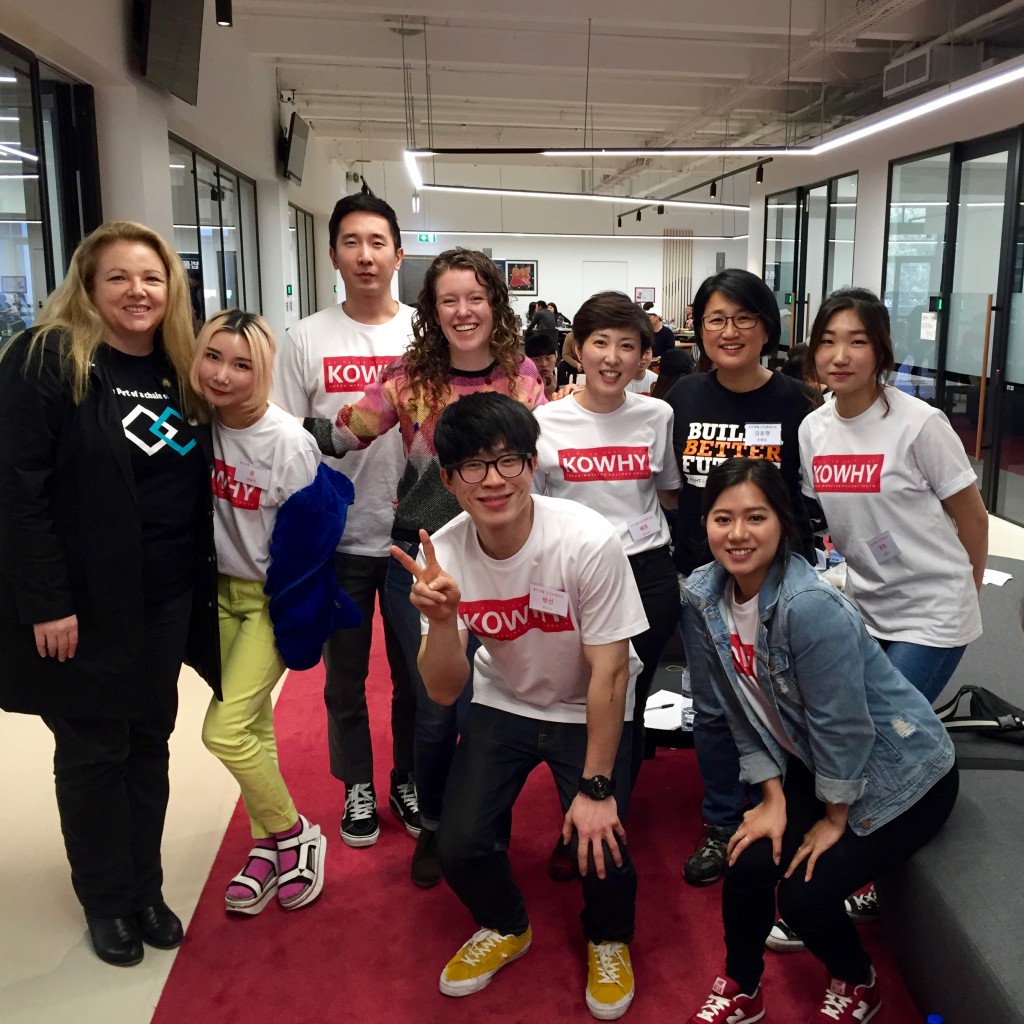 ---
---
The Freedom Partnership turns 2!
By Sydney Hirt
Social Media Communications Officer
29 July, 2016
July 30 is 'World Day Against Trafficking in Persons', and marks two years since The Freedom Partnership was launched. From everyone at The Freedom Partnership, we thank you for your continued support! Together you have helped us build a chain of good to end slavery in Australia. We would particularly like to thank the Minderoo Foundation for enabling us to begin this journey.
Check out some of our top highlights below: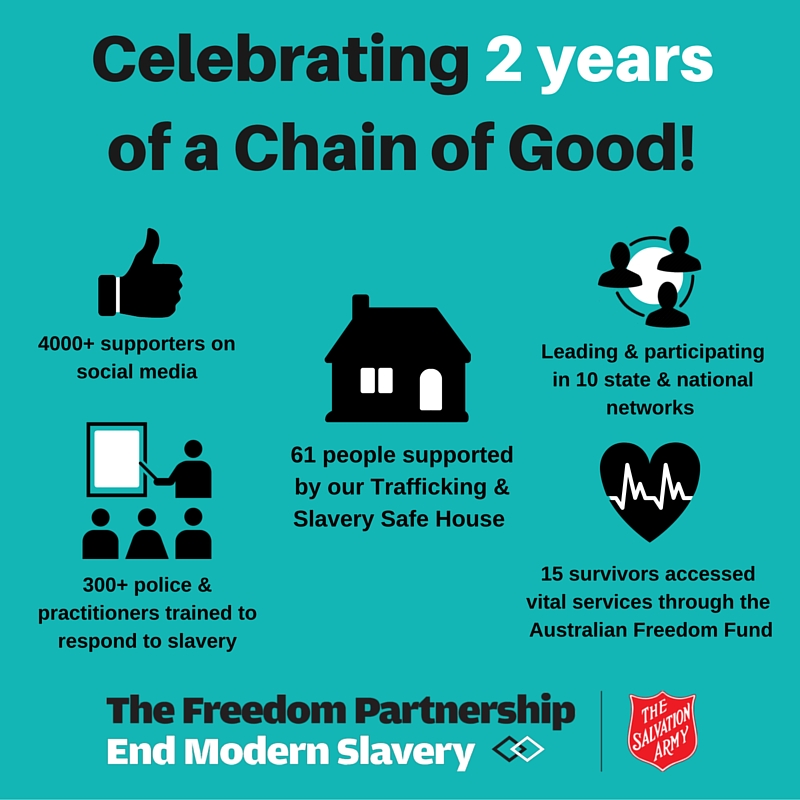 In the last 2 years we have supported 61 survivors through our Trafficking & Slavery Safe House. The safe house is Australia's only supported accommodation for people who have experienced modern slavery in Australia. The service also offers expert case management to men, women and children.
We have trained over 300 police and practitioners across the country in how to identify and respond to slavery. These trainings offer an important service for groups likely to encounter victims of modern slavery, and have resulted in an increase in referrals.
15 survivors of slavery have accessed vital services through our new giving platform called the Australian Freedom Fund. The fund provides victims with basic services such as shelter, transport, food and emergency medical care when no other support is available. You can make a tax deductible donation to the fund HERE.
We have connected with over 4,000 people through our social media channels. Social media provides us with an important avenue for raising awareness about slavery in Australia, and inspiring meaningful online activism.
We are currently leading and participating in more than 10 state and national networks. These include Forced Marriage networks, Migrant Worker Rights Groups, and The Australian Freedom Network.
We continue to run a unique program for survivors of modern slavery called The Freedom Advocates. The Freedom Advocates ensures survivors have an opportunity to contribute to and shape the national response to modern slavery through self-determined, supported means. They engage in a range of activities including: public awareness raising, policy advocacy and peer mentoring. See one Advocate's story HERE.
Thank you again for supporting our work, together we truly can #endslavery!
---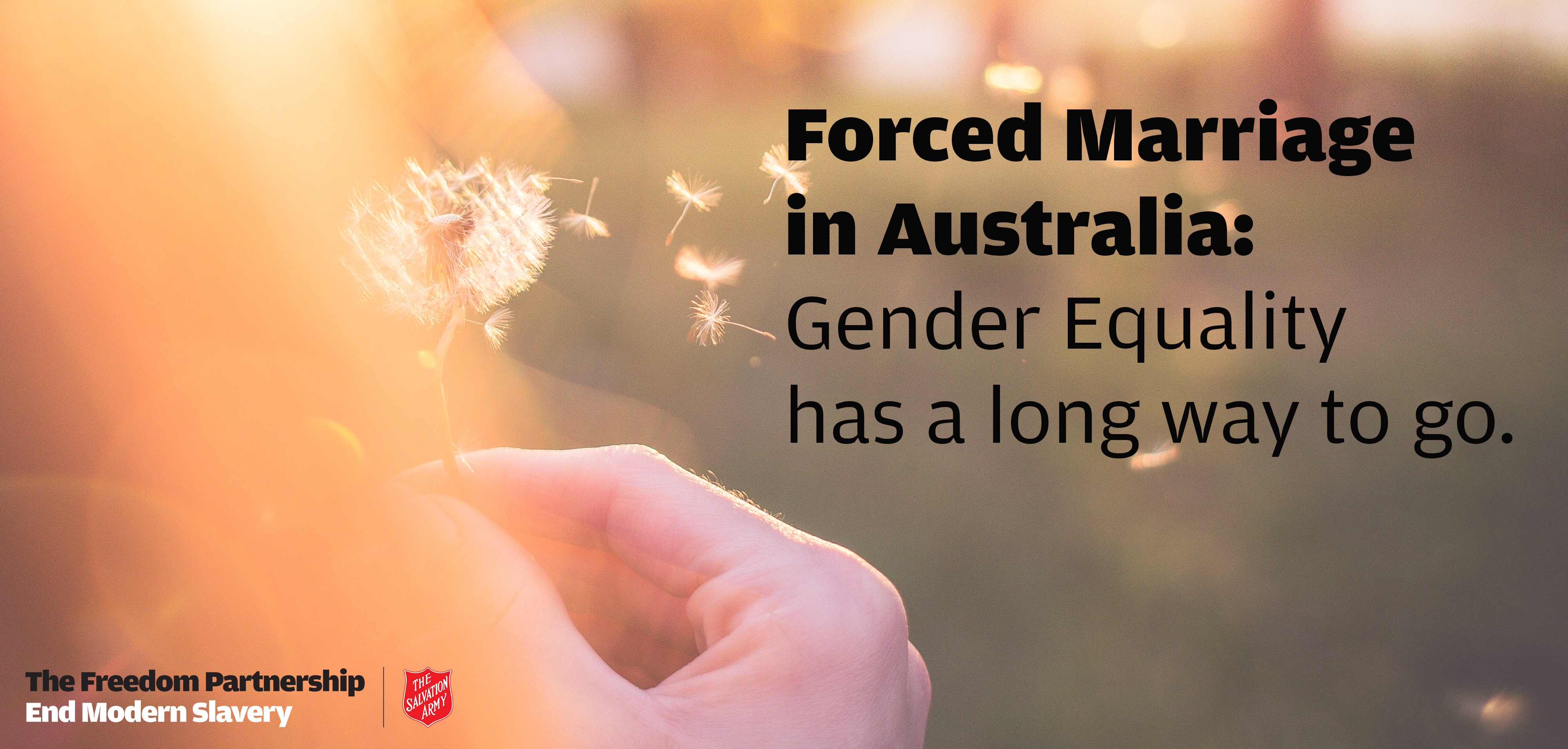 "Forced marriage is happening in Australia and we need to do something about it"
By Laura Vidal
National Projects Coordinator
8 March, 2016
For more than 100 years, International Women's Day has celebrated the economic, social and political achievements of women and has become a time to reflect on areas where progress on gender equality has stalled.
This year's theme, Pledge for Parity, calls for women and men to make a pledge to take meaningful action in these areas to help achieve gender equality at a much faster pace.
Broadening Australia's approach to forced marriage is the next step in empowering women and girls and advancing their rights.
Amina* faced the prospect of forced marriage whilst she was a high-school student. Her sisters and cousins had also experienced marriage at a young age, so it was not a surprise to Amina when her parents informed her about their plans for her marriage.
She was pressured by her parents to travel overseas and then deceived into a religious marriage to a stranger. Amina was then expected to sponsor the migration of her new spouse to Australia a few months later when she returned and turned 18.
Amina's parents genuinely believed the marriage was in her best interest, but their deceptive actions emotionally devastated their daughter.
As the reality of life with her new husband drew closer, it became clear to Amina that she would not be allowed by her husband to study, work or achieve her own goals.
Ultimately, Amina refused her parent's wishes. As a result, she has lost family and community relationships that have been foundational to her identity as a child and young person transitioning into adulthood.
Overnight she was flung into independence without resources to live on her own, in addition to dealing with the grief and loss of her family.
For more than 100 years, International Women's Day has celebrated the economic, social and political achievements of women and has become a time to reflect on areas where progress on gender equality has stalled.
This year's theme, Pledge for Parity, calls for women and men to make a pledge to take meaningful action in these areas to help achieve gender equality at a much faster pace.
Broadening Australia's approach to forced marriage is the next step in empowering women and girls and advancing their rights.
Amina* faced the prospect of forced marriage whilst she was a high-school student. Her sisters and cousins had also experienced marriage at a young age, so it was not a surprise to Amina when her parents informed her about their plans for her marriage.
She was pressured by her parents to travel overseas and then deceived into a religious marriage to a stranger. Amina was then expected to sponsor the migration of her new spouse to Australia a few months later when she returned and turned 18.
Amina's parents genuinely believed the marriage was in her best interest, but their deceptive actions emotionally devastated their daughter.
As the reality of life with her new husband drew closer, it became clear to Amina that she would not be allowed by her husband to study, work or achieve her own goals.
Ultimately, Amina refused her parent's wishes. As a result, she has lost family and community relationships that have been foundational to her identity as a child and young person transitioning into adulthood.
Overnight she was flung into independence without resources to live on her own, in addition to dealing with the grief and loss of her family.
The Australian Federal Police investigated 34 cases of forced marriage between 2013 and 2015. Alarmingly, 29 of these investigations were related to persons under the age of 18.
While there is very little available data on the prevalence of forced marriage in Australia, the United Nations Population Fund estimates that 140 million girls around the world will become child brides between 2011 and 2020.
The fact this occurs in Australia today demands of our attention and resources.
Under Australia's current policy, victims who disclose a risk of forced marriage or who experience a forced marriage must engage with law enforcement to access a government support program.
Criminalising forced marriage in order to prevent it is only one part of a complex and comprehensive response to best support young people and their families. Young people aged 16-18 years represent a significant number of those at risk, and more nuanced interventions should also be offered.
For example, in many cases it may not be in the best interest of a young person's well-being or emotional and psychological development to be a party to the prosecution of their own family members.
Services should be available to people independently of contacting police, who are inappropriately placed as gatekeepers to welfare supports. An integrative framework is needed — one that focuses on young people and provides resources for them to reach their full potential from the moment they seek help.
The United Kingdom's Forced Marriage Unit (FMU) offers Australia a model for delivering a consistent response that is worth considering in light of the growing number of young women and girls seeking help here.
The FMU response provides multi-disciplinary support teams that work alongside law enforcement if young people choose to engage with police. This means that a young person's journey is centred on their rights and needs rather than a criminal justice outcome.
Young Australians facing forced marriage need a similar approach that activates comprehensive wrap-around supports first, and law enforcement as needed.
Without the support of a schoolmate's parents who offered her a safe home, support and guidance, Amina would likely have returned to a marriage and life she never wanted, and Australia would have been robbed of the skills and talents she now offers as a university graduate.
Amina was able to achieve her goals because she was given what she needed when she needed it. It's true that Amina is also a courageous, tenacious and insightful young woman with coping skills and motivation to succeed. It's a lucky combination.
We think Australia can and should leave less to chance by providing every young woman at risk of forced marriage the same opportunity.
*Name changed on request.
As featured on The Huffington Post Australia: http://www.huffingtonpost.com.au/lauravidalau/forced-marriage-is-happening-in-australia-and-we-need-to-do-something-about-it_b_9405022.html
---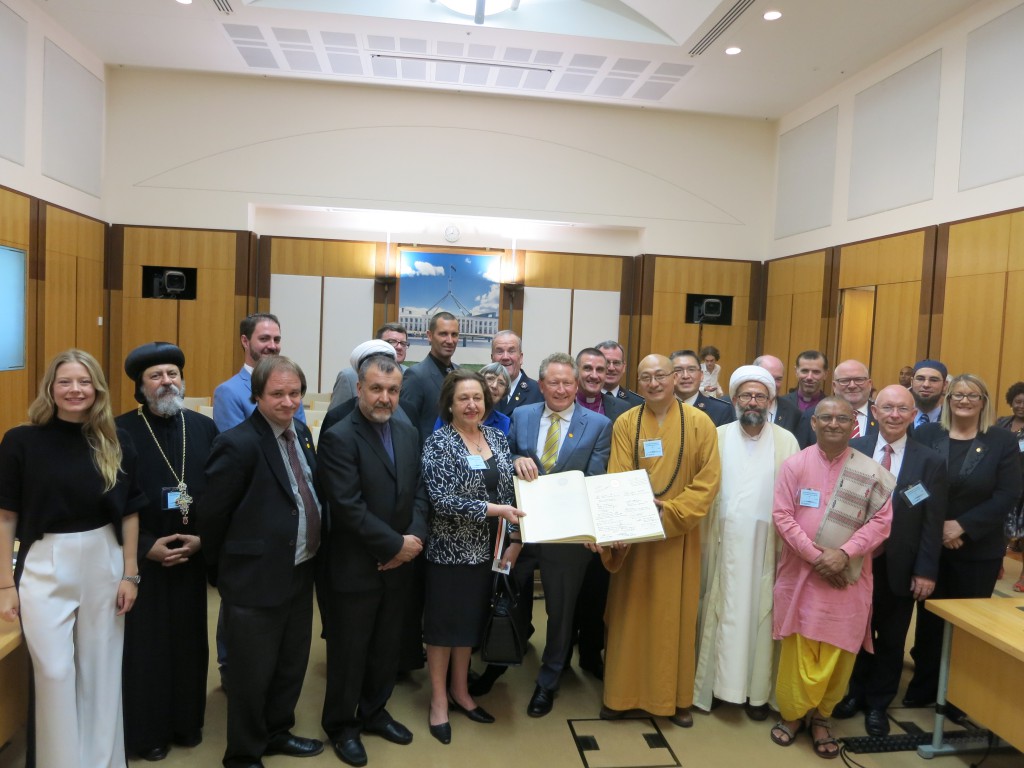 Fighting Slavery with Faith
Commissioner James Condon
2 December, 2015
Despite being outlawed nearly 150 years ago, modern day slavery is a billion dollar industry that affects millions of people in countries around the world – including right here in Australia.
Right now in Australia there are an estimated 3,000 people are currently in slavery or slave-like conditions. This practice is thriving and we, as ordinary everyday Australians, may even be unknowingly supporting it.
Unfortunately, Australia's decade-long focus on slavery-like conditions in the sex industry has made us blind to the growing and systemic exploitation of people that has firmly taken root in the rest of our economy. International students, backpackers, 457 and other temporary visa holders seeking legitimate opportunities arrive here only to find themselves exploited for profit and forced to work against their will.
For too long we have turned a blind eye to the many different facets of slavery, which has allowed widespread labour exploitation to flourish. The reality is that slaves are cooking our food, cleaning our offices, packing our meat, picking our vegetables, running shops, tiling our bathrooms – and the list goes on.
It's inconceivable that slavery still exists in 2015, let alone prospers in a developed nation like Australia. That is why it is imperative that government, religious and community groups work together to help eradicate this system that has no place in the modern world.
Today is International Day for the Abolition of Slavery and senior faith leaders will gather in Canberra at Parliament House to launch the Australian Freedom Network. The Australian Freedom Network will bring together the faith communities of Australia to make a public commitment to develop practical actions to eradicate modern slavery in our nation.
The Salvation Army's trafficking and slavery safe house continues to support many enslaved people whose stories do not feature in the headlines. Sandra, a Freedom Advocate and survivor, is just one example of someone who was promised a better life in Australia only to be stripped of her autonomy.
Sandra was enslaved as a domestic worker in suburban Sydney for three years without pay after being promised a wage and permanent residency in Australia. Her slaveholders organised her travel to Australia, confiscated her passport and isolated her from the outside world whilst extracting her labour 24 hours a day 7 days per week.
They denied her health care, contact with her family and treated her as an object for their use and abuse.
"I thought I had been abandoned by God," she has said.
Eventually, Sandra made the brave decision to ask someone for help and take a leap of faith into the unknown consequences of that decision. As a result, she made her way to The Salvation Army and is now an Australian citizen.
Even though Sandra's slaveholders were not criminally prosecuted, we should still view her story as a success. Ultimately, since finding freedom she has been able to obtain purposeful work and is now an advocate for other survivors. She has shared her story so that we can all benefit from her experiences and insights.
Australian faith leaders have the opportunity create meaningful pathways out of slavery and into a situation of safety, choice and control. But like the wider community, our faith communities lack awareness of the scale and scope to which they may contribute to the enslavement of other people via products and services they use and consume.
Every day individuals purchase goods and services our workplaces and organisations may also use services that may be contributing to the exploitation and slavery of other human beings.
And, so, we are compelled by our faiths to call for transparency and accountability in corporate supply chains. We must do this until we all can be assured that the profits generated by free markets and free trade adequately evidence the production of goods and services by people who are free and being paid a living wage both here and overseas. This includes people whose migration status or visa conditions are being used to abuse their rights.
With the launch of the Australian Freedom Network, Australian faith leaders will send a clear message that slavery in all of its forms is not condoned by religion and we stand collectively against forced labour, human trafficking, debt bondage, servitude, servile and forced marriage.
Amongst our faith communities there is also hope, care and support for people who have experienced slavery to reclaim their freedom. And our message for those who are still enslaved in Australia: "you are not alone."
---
Human trafficking. Or, modern slavery?
Sverre Molland
Human trafficking. Or, modern slavery? Politicians, United Nations, media and activists often use these phrases interchangeably. Yet, in recent years, there has been a subtle shift from the former to the latter. Legislative changes are evident in several countries (such as the recent modern slavery bill in the UK), and a range of organisations increasingly refer to "modern slavery" as opposed to human trafficking. This partial shift from trafficking to modern slavery has already been subject to critique. Yet, before even beginning debating the "pros and cons" of these concepts it is worth asking why this shift in language occurs in the first place. Why do we suddenly say "modern slavery" instead of "trafficking"?
There are several notable contrasts between the combat against "modern slavery" and "anti-trafficking". Whereas nation-states were instrumental in developing the latter, "modern slavery" campaigns are commonly funded by the private sector. Whereas trafficking has often been associated with either prostitution ("sex trafficking") or women and children, modern slavery appears gender-neutral. In contrast to late 1990s anti-trafficking, campaigns against modern slavery have emerged within a context of social media activism. This invites consideration for why "modern slavery" may be a more appealing label to certain types of organisations and activists. Another, perhaps less obvious contrast is evident in how these two concepts relate differently to migration and border control.
Anti-trafficking came to prominence in the early 2000s with the advent of the United Nations protocol to prevent, suppress and punish trafficking in persons. The protocol emerged in the aftermath of the end of the cold war when nation states were still coming to terms with reframing national security. Academics and trafficking experts widely acknowledge that migration and border control were main motivations for nation states to become party to the trafficking protocol. This "migration bias" is reflected within the trafficking concept with its focus on how a migrant is recruited – as opposed to maintained – in an exploitative labour situation. Indeed, the very word itself suggests the onus ought to be placed on movement ("traffic"); not what takes place at the destination of a journey. In other words, trafficking blurs two policy objectives: controlling labour exploitation and migration.
As numerous commentators have pointed out, this leaves the trafficking concept vulnerable to manipulation as it becomes possible for governments (and others) to advance anti-immigration agendas by placing focus on what leads up to an exploitative labour situation (i.e. recruitment of migrants) but without taking steps to address exploitation in itself. There is no doubt many anti-trafficking programmes indeed assist migrants who have been badly abused. Yet, anti-trafficking risks becoming a compassionate gloss on top of what is ultimately a politics of migration control, critiques say. Deporting a "labour migrant" can sound cold-hearted. Repatriating a "trafficked victim" makes it sound humanitarian.
This recruitment or migration "bias" within the trafficking concept has also contributed to the difficulty in establishing credible estimates on trafficking. A blurred concept inevitably produces blurred estimates, which in turn makes it impossible to demonstrate impact. How many people get trafficked? Have anti-trafficking efforts reduced trafficking? After more than a decade of anti-trafficking there are no clear answers to any of these questions.
It should come as no surprise that both donors and activists within the anti-trafficking sector are searching for a new language which allows effective advocacy for improving welfare, protection and rights for migrant labourers, but without becoming "hijacked" by other agendas. Yet, simply calling it "labour exploitation" or "abuse of migrant workers" won't do due to the public's general hostility toward migrants. Any notion of an acceptance of extra-legal or uncontrolled migration is politically impossible in many countries. This makes advocacy for migrant workers precarious. So, what is the solution? Appeal to morals and emotions in a way that enables visceral identification. This is precisely what the concept of "modern slavery" does.
Evoking the imaginary of slavery makes it less abstract. It becomes possible to think about labour, abuse and violence in terms of interpersonal relations (the way in which forced marriage is increasingly associated with "modern slavery" is telling of this fact). It also provides moral certainty by framing exploitation in light of a perpetrator and victim. This makes "modern slavery" a powerful advocacy tool as it is almost impossible to disagree with it (who can be for modern slavery?) To what extent this change in language has overcome anti-trafficking's "migration bias" is too early to tell. As has become apparent in the recent refugee crisis in the Mediterranean, politicians seem to have no difficulty advancing punitive border control policies (which even includes the use of violence) by evoking comparisons to slavery in order to justify their actions. Although slavery evokes images of labour exploitation (such as chained labourers), the trans-atlantic slavery reminds us that it was after-all underpinned by coerced migration.
Sverre Molland is a lecturer in Anthropology at the Australian National University. He has more than a decade of combined research and programme experience on human trafficking and migration in and has previously worked for one of United Nations' first anti-trafficking programmes in Southeast Asia. He is the author of "The Perfect Business?: Anti-Trafficking and the Sex Trade Along the Mekong."
---
Human trafficking is all around you
Every day we go about our daily lives, whether it's travelling to and from work or school, or taking a trip to the shops. Most of the time if we are honest, we undertake our daily tasks in 'tunnel vision' mode – and that's okay. However, once in a while it's good to lift your head and take a look around. Become aware of your surroundings and get a little inquisitive.
If you haven't realised yet, unfortunately human trafficking is embedded in our everyday lives. From the food on your table, the clothes you dress in, where you get your hair done, the next massage you book to that family you know with the nanny or cleaner.
Trafficking happens when need meets greed, or as Noy Thrupkaew, a freelance writer based in New York City, puts it: "Human trafficking is the use of force, fraud or coercion to compel another person's labour".
Found in industries such as agriculture, domestic work and construction work, these essential workers providing food, care and shelter are amongst the most underpaid and exploited workers today.
So what can you do to raise awareness of human trafficking in your home, with your friends and with your work colleagues?
Well you can start by watching the excellent TED talk given by Noy Thrupkaew, Global Journalist who reports on human trafficking and the economics of exploitation through the lens of labor rights.
Then take the pledge to help end slavery in Australia.